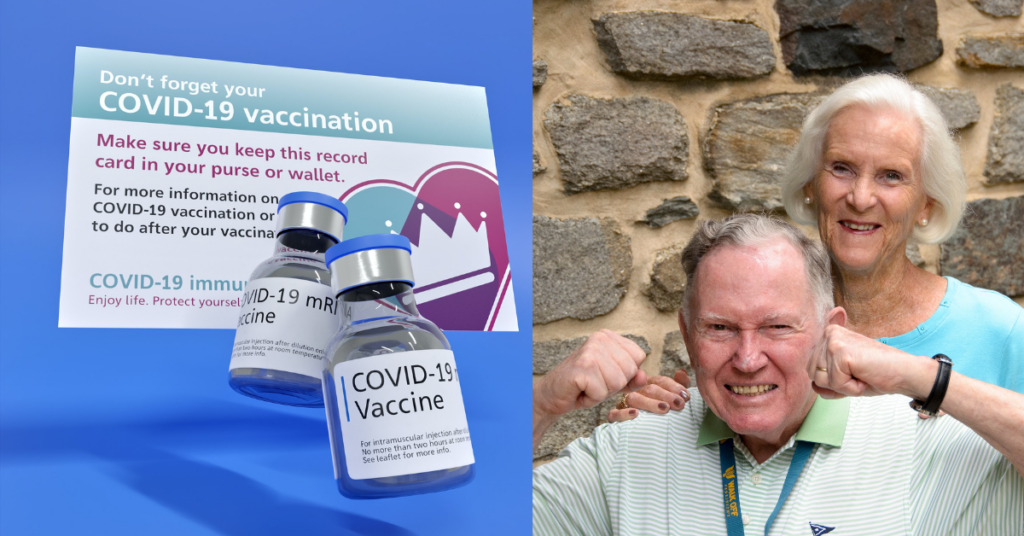 Keep your vaccination card safe and help those fighting Parkinson's.
Whether you carry your vaccination card or don't want your dog chewing on it, our plastic sleeve will help keep it safe!
Donate a minimum of $10 for one sleeve and $5 for each additional one.
Your donation helps the 1,000,000 Americans who are currently living with Parkinson's slow the progression of the disease through:
Live and Recorded Exercise Classes to Manage the Symptoms of Parkinson's.
Educational Symposiums hosted by of over 35 Parkinson's Specialists.
Quarterly Educational Lectures.
A Supportive Community of Others with Parkinson's who can provide Friendship, Empathy, and Hope.
If you want to make a difference for those with Parkinson's and receive a Vaccination Card Sleeve as a thank you, then click the button below.
Additional Information below:
What does the Vaccination Card Sleeve Look Like?

The card sleeve (pictured above) is a simple clear sleeve designed to protect your card from wear and tear and to make sure it remains legible.
Parkinson's & COVID-19 Update from our Medical Advisory Board.
More about PFNCA's Mission:
For more than 25 years, PFNCA has been providing programs and services to improve the quality of life for those facing Parkinson's.
While there is no cure for Parkinson's, those diagnosed with the disease can take steps to live well.
The Parkinson Foundation of the National Capital Area improves the quality of life of those impacted by Parkinson's disease, their care partners and families, and fosters a sense of community to ensure that no one battles this disease alone. PFNCA offers exercise, communication and education programs to strengthen the physical and emotional health of people impacted by Parkinson's.
About Parkinson's disease:
Parkinson's Disease (PD) is a chronic neurologic condition named after Dr. James Parkinson, who first described the syndrome in 1817. PD is a slowly progressive disease, which causes a gradual loss of the nerve cells in the brain that produce the neurotransmitter dopamine. Because dopamine carries signals to the part of the brain that control movement and coordination, decreased dopamine levels lead to the cardinal motor symptoms of Parkinson's disease:
Resting tremor
Generalized slowness (bradykinesia)
Stiffness of the limbs (cogwheel rigidity)
Other motor manifestations of Parkinson's disease may include small handwriting, decreased facial expression, soft speech, and difficulty swallowing. As the disease progresses, postural instability develops, resulting in a slow, imbalanced shuffling gait, which can result in falls.
Because other parts of the brain and other neurotransmitters (other than dopamine) can be affected in Parkinson's disease, other symptoms can occur. These can include lightheadedness, constipation, dementia, depression, and sleep disturbance.
Every patient is different and may not experience all of the above symptoms.