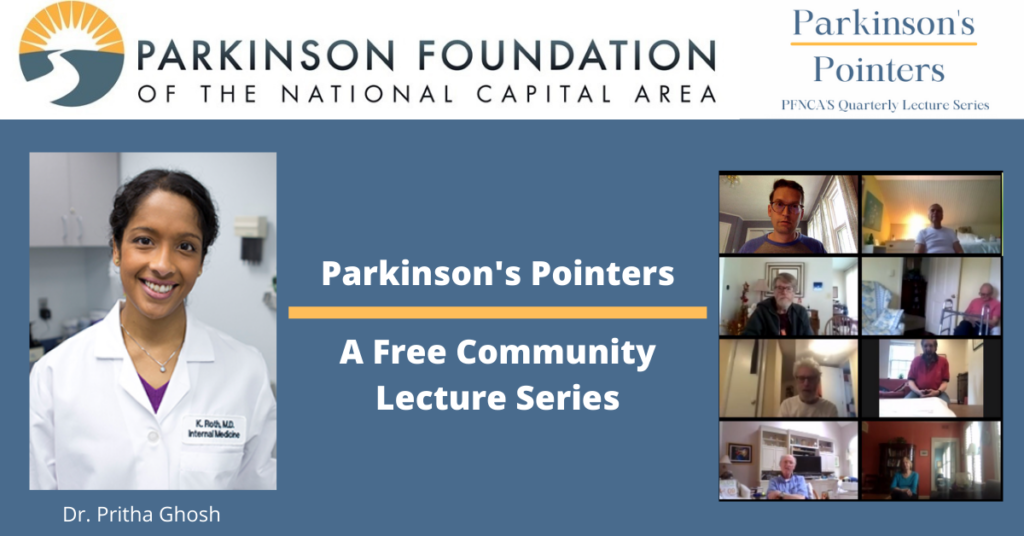 PFNCA Parkinson's Pointers Lecture Series normally live- streamed to community locations, currently referred to as Parkinson's Pointers @Home, will be available for viewing at home in response to COVID-19.
Join Dr. Pritha Ghosh, of The George Washington University, for a presentation and live Q&A on Thursday, February 18, 2021 from 4:00-5:15 p.m. EST, via Zoom.
Dr. Ghosh will present how to "Make the most of your visit with your Movement Disorder Specialist: Communication and support needed to enhance or create a care team through your journey"
Dr. Ghosh will discuss why you need a Movement Disorder Specialist (MDS), how to locate one, and the best practices for coordination between you MDS and your other doctors. Patients often ask, if they only see their MDS twice a year, what is the best way to make the most of those visits? What tools can I use to evaluate my progression? How does my PD interface with my other medical conditions? All these questions will be addressed in the lecture. Join us on February 18th to learn more.