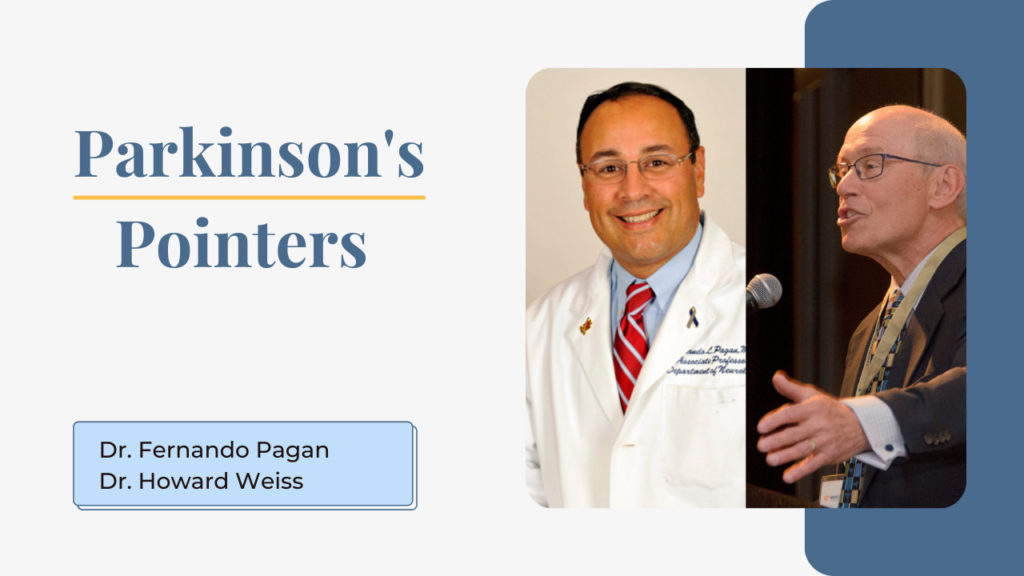 The Lecture Topic Is

:
"The Future of Parkinson's Treatments"
Dr. Fernando Pagan of Georgetown University and Dr. Howard Weiss will provide a brief historical overview of Parkinson's treatment and have a lively discussion about what future treatment may look like.
Learn from these Movement Disorder Specialists, who combined have more than 77 years experience serving people with Parkinson's.
The program will include a question-and-answer session.
About the Event
PFNCA Parkinson's Pointers Lecture Series, normally live-streamed to community locations, will be available for viewing at home via Zoom in response to COVID-19.
Event Date/Time: October 21st from 4:00 p.m. – 5:30 p.m. EDT
Parkinson's Pointers is a quarterly community lecture series where doctors who specialize in Parkinson's speak on specific issues facing the Parkinson's community and then leave time at the end of the presentation for a Q&A session from the participants.
Event Details
There is no cost to attend but registration is required.
Registration is per household and not per person.