Member, PFNCA Medical Advisory Board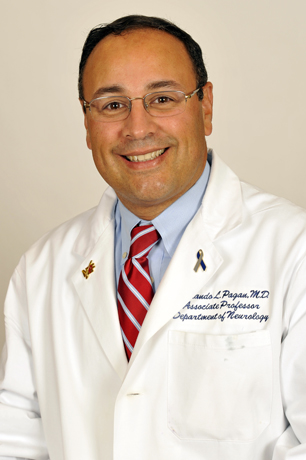 Dr. Pagan is Vice Chair, Department of Neurology, and Co-Director, Movement Disorders Program, at MedStar Georgetown University Hospital.  His areas of specialization and expertise include   movement disorders and Parkinson's disease, Parkinsonism and other related disorders, Ataxia, essential tremor, dystonia, botulinum toxin, deep brain stimulation and gluten sensitivity.  His priorities and objectives include 1) providing outstanding neurological education to students, residents and physicians, 2) using research to advance the scientific knowledge, understanding, diagnosis and treatment of neurological diseases and 3) delivering of cutting edge neurological care to patients suffering from movement disorders.
Georgetown University Hospital
Parkinson Disease Center
3800 Reservoir Road, NW, Pasquerilla Healthcare Center, 7th Floor
Washington DC 20007
Phone: (202)-444-8525
Members of the PFNCA Medical Advisory Board volunteer their time to the Parkinson Foundation of the National Capital Area by reviewing wellness program activities, developing educational programs and serving as educational speakers.
About PFNCA
The Parkinson Foundation of the National Capital Area (PFNCA) improves the quality of life of those impacted by Parkinson's disease, their care partners and families, and fosters a sense of community to ensure that no one battles this disease alone. PFNCA offers exercise, communication and education programs to strengthen the physical and emotional health of people impacted by Parkinson's.
What is a Movement Disorder Specialist?
A movement disorder specialist is a neurologist with additional training in Parkinson's disease.