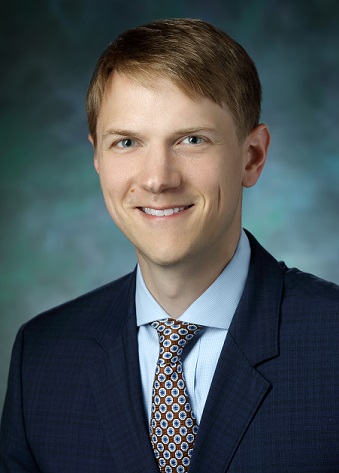 Dr. Kelly Mills cares for patients who have movement disorders such as Parkinson's disease, atypical parkinsonism, dystonia, ataxia, tremor and Huntington's disease. He also evaluates and manages patients needing deep brain stimulation to manage their movement symptoms and provides botulinum toxin treatment for various disorders.
In his research, Dr. Mills explores the cognitive dysfunction that can occur in movement disorders such as Parkinson's disease. He is particularly interested in describing the role of the basal ganglia in cognition, especially in the context of various diseases that can affect this structure.
His work focuses on clarifying how certain treatments might impact cognitive and psychiatric problems. For instance, Dr. Mills studies how deep brain stimulation, when used to treat movement symptoms, can impact cognitive function such as attention, memory or impulsivity.
Dr. Mills is a Maryland native and a graduate of the University of Maryland School of Medicine, where he developed an interest in neurology and movement disorders.
He trained at the University of California, San Francisco, where he completed his neurology residency as well as a clinical and research fellowship in movement disorders, with a particular emphasis on deep brain stimulation to treat Parkinson's disease, tremor and dystonia.
Johns Hopkins Medicine

600 N. Wolfe St., Meyer 6-181D
Baltimore MD 21287
Phone: (410) 502- 0133