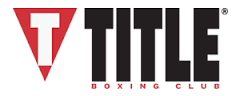 Several times each week, TITLE Boxing Club locations in Falls Church, Va. Springfield, Va. and Rockville, Md. fill their facilities with unique fitness boxers – those living with Parkinson's disease.
In October of last year, local TITLE Boxing Club owners began offering private Parkinson's focused boxing exercise classes, free of charge, in collaboration with the Parkinson Foundation of the National Capital Area (PFNCA). The classes at TITLE, are just one option offered through PFNCA's more than 170 available programs at no cost each month.
It is widely understood that exercise helps lessen or slow the physical effects of Parkinson's disease. "One of the best things you can do to help live well with Parkinson's is regular aerobic exercise," said Dr. Stephen Grill of Parkinson's & Movement Disorders Center of Maryland who chairs the Medical Advisory Board of the Parkinson Foundation of the National Capital Area.  "People who exercise regularly do better in the long run."
Scott Innis was diagnosed with Parkinson's Disease last year at the age of 52. "I had been on the lookout for a boxing class having read about the therapeutic benefits. Chris' class is about living and maintaining ability. This class is the highlight of my week."
Class participants range in ability from being fully mobile with few signs of the disease to some who cannot stand or walk. Care-givers and family members often join in as well. "Most people look forward to Fridays. My dad and I? We look forward to Thursdays," said Lynne Barner who attends the class with her father. "Why? Boxing. More than the physical, these sessions bring together people with Parkinson's Disease and form a community," she continued. "Maybe most importantly, I get the opportunity to spend some time with dad doing something that helps both of us."
In addition to the physical benefits of a workout plan, classes at TITLE Boxing offer an emotional release as well. "I come regularly to the Boxing class because it gives me the best workout I have all week," said Steve Goldstein, participant in Rockville. "Exercise is so important to slow down the progression of the disease and I find the combination of strength, agility and cardio training in this program to be unique. I am tired at the end of class, but both physically and mentally relaxed."
In the middle of 2015, a person who regularly participated in cardio boxing classes has Parkinson's disease, approached Kate Carski, co-owner at TITLE Boxing Club, Springfield and Falls Church, about developing a program with PFNCA.  He then put Carski in touch with foundation president and CEO, Jared Cohen. Classes began in October.
The instructors who teach boxing for Parkinson's classes attended a comprehensive training provided by PFNCA in preparation to better understand and work with the students. These trainers often go the extra distance to ensure participants reach their full potential during class. Fran Visco, a participant in Springfield, speaks about instructor, Chris Viggiano, "The class is extraordinary, and so is Chris, the instructor," she says. "He even met with one of the neurologists who treats a few of the students in the class."
For Heidi Dallman, instructor at Falls Church, it's her favorite class of the week. "I love the community feel of the class and seeing how dedicated the participants are, despite some of them working with limited or impaired mobility," she said.
Because the class attracts the same participants each week, many have found a social benefit as well. "It is wonderful to meet other people who have Parkinson's disease," said Visco. "We not only talk about our families and trips, but give each other helpful advice and support."