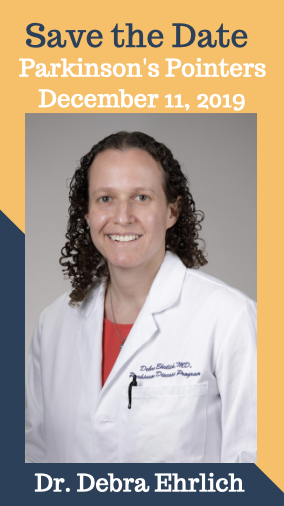 What is a Parkinson's Pointers lecture?
PFNCA Parkinson's Pointers is a lecture series where people gather in various locations for an online presentation and Q&A session by a physician that specializes in Parkinson's. Powerful, practical information is shared in a positive and community based setting. Lectures are live streamed to the locations and refreshments are served.
Overview of Lecture:
Topic – National Institutes of Health's Role in the Fight Against Parkinson's
The Parkinson's Clinic at the NIH focuses on the advancement of knowledge and treatment of Parkinson's. Their Parkinson's clinic screens people for studies for which they may qualify and focuses on how genetics may impact Parkinson's. There is no cost to attend. Donations are accepted during the registration process for those that would like to support the program.
Join us for our next lecture:
Date: Wednesday December 11, 2019
Time: Doors Open at 6:00 p.m. Lecture runs 6:30 p.m. to 8:00 p.m. Eastern Standard Time
Multiple Locations: Click link below to view locations.
Speaker:
Dr. Debra Ehrlich, MD, MS, Chief of the Parkinson's Clinic at National Institues of Health (NIH)