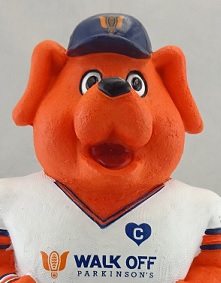 Walk Off Parkinson's Kids Corps is a program for children 12 and under to help raise awareness of Parkinson's Disease.  It is also an opportunity to help raise money to support the work of the Parkinson Foundation of the National Capital Area (PFNCA).  PFNCA provides exercise, communication and education programs to help people with Parkinson's live well.  More than 1,500 people are helped each year. Kids can join in this effort by spreading the word about Parkinson's Disease.  Raising funds will help make sure PFNCA's programs continue to be available to those who need them.
When you collect a minimum of five donations of $10 or more you will receive a bank featuring Amp, PFNCA's mascot.  Amp travels around the region and to educate people about Parkinson's and how to live well with the disease.
To get started click here.  If you have questions, please call 301-844-6510.