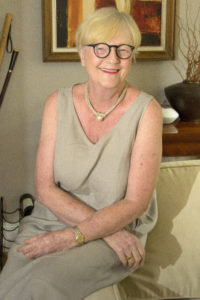 Recently, PFNCA Emeritus Board Member Susan Hamburger sat down and reflected on her experiences with Parkinson's and PFNCA.
Tell us about you and your husband's experience facing Parkinson's.
My husband Stan was diagnosed with Parkinson's at the age of 45 and lived with it for 27 years.  In the beginning we spent a lot of time talking about what we might be facing.  I was learning all I could about the disease and tried to ease his growing anxiety about it by emphasizing that we were in this journey together and that I would be there with him no matter what happened in the future.  This turned out to be very valuable for both of us because we talked a lot about every change and recommendation and worked as a team during the course of his disease, until he was no longer able to help.
We kept our life as normal as possible, kept up with our friends, went out to eat a lot, enjoyed movies every week, went away on weekend trips and took a long vacation every year – usually going to Europe.  We faced every change together and made whatever adjustments that were necessary – whether it was installing a hand rail, changing the type of shoes he wore, adding a new medication or selling our house and moving to a condominium.
I believe that Stan and I lived as 'well' as we could with the disease – given it's devastating downward trend.  Our perspective allowed us to experience a special closeness with each other.
Tell us about your involvement with PFNCA.
I have been involved with PFNCA since 1985 when we began attending their evening educational program in Virginia.  We became patients of Dr. Linda Sigmund at that time.  I was asked to join a planning committee by Dr Sigmund and that's how it started.  From there I was elected to the Board and have remained involved with the organization in various capacities ever since then.
I think my most important contributions have been at the patient services and caregiving levels.  I had ideas for several types of new classes, like group speech therapy and dance, and helped get them instituted.  I opened up classes in Maryland by finding the right instructors and locations and creating ways to get the information to those who live in Maryland.  I ran a large support group in Maryland which eventually became PFNCA's Community Lecture Series in Maryland.  Our monthly attendance was always between 50 and 75 people.
It was my idea to create the Medical Advisory Board. I wrote monthly articles for caregivers for the newsletter.  This was a very beneficial exercise for me as it helped to relieve my caregiver stress by writing about it.  The caregiver columns were eventually edited into book format and published by PFNCA.  Over the years, I spoke to many Parkinson's support groups and patient symposia about caregiving issues.
What do you think PFNCA is important?
I think PFNCA is important, not just for the wonderful educational and exercise services offered to Parkinson's patients but for the sense of community it provides if patients take advantage of it.  Parkinson's can be an isolating disease for many reasons.  People can feel like there are many others who share the same diagnosis and they are not alone and this can be very freeing for them.
What would you tell others who are not active with PFNCA to convince them they would benefit from doing so? I would tell them that PFNCA can help them learn more about the disease but also how to live a 'better' quality of life with it.
What are you most proud of regarding your association with PFNCA?
I am very proud of everything I did because of my passion for helping my husband and so many other people with Parkinson's.  I was in a position to make changes, institute new ideas and help with the enormous growth that we experienced over the years.  I truly felt that my passion 'ignited an entire community' – as it says on an award that PFNCA has presented to me.
Why did you decide to remember PFNCA in your will?
How could I not?  I have been involved for so many years and at one time I felt that PFNCA was my 'baby' and it needed me to keep helping a wonderful community of people that I loved. That is certainly no longer true but I want to ensure that it survives into the future and continues its support of helping people live well with the disease.